Welcome all to the last day of the blog hop! I hope you have gathered all of the secret words and you are ready to enter them for the big grand prize! If not check the schedule in my last post and visit all of the blogs. Gather the key words and then enter them in a post on the
Henry Glass Blog.
The Rules for the contest are in the previous post. I am sharing the day with Linda, so hop on over to her blog next.
I will be doing my own Giveaway at the bottom of this post after the Q and A.
I love taking the holiday's into every room and this is a simple and inexpensive way to do it!
...Present Pillows....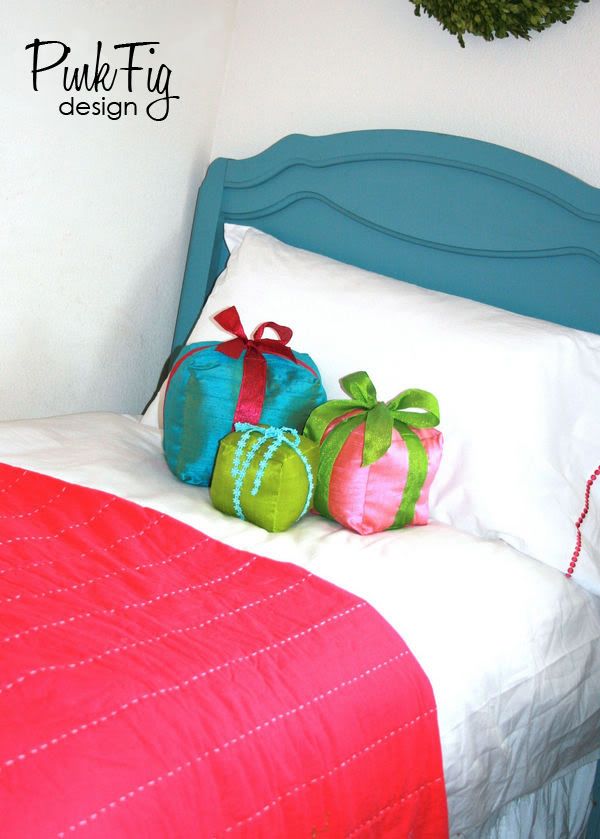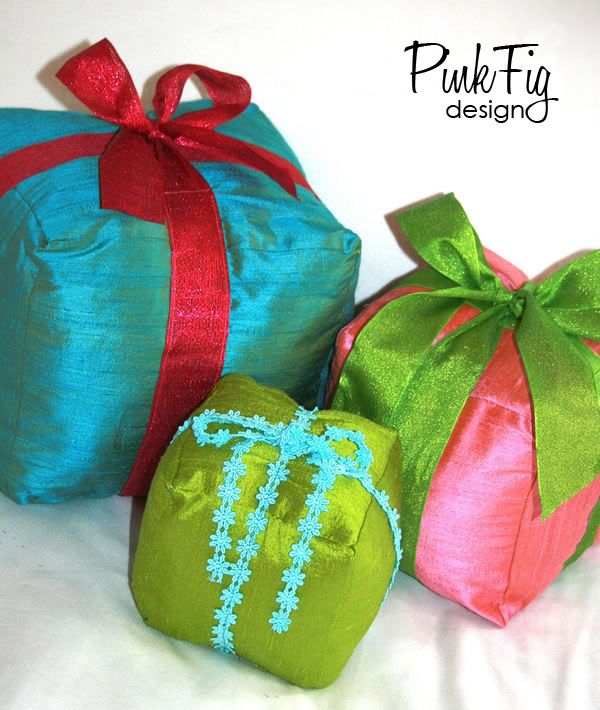 Aren't they so cute and festive! I used Dupioni Silk for these pillows, but you can spice them up with any of your fabric fabrics. I think they would look darling in Miss Modd :)
Click HERE for the down loadable PDF pattern.
Now for the Q and A...
hint hint...the secret word is written in
green
If you don't know me already or you're new to Pink Fig, here is a little ditty to help you get to know me better:
1.What is your favorite Holiday Food?
Pumpkin Rolls and

Christmas Cookies
2.Does your family have a favorite Holiday Tradition?
We like to pack up a couple of bags of food and clothes and go on a drive in the city. When we see a homeless person we stop and give it to them. We also include some money and a Book of Mormon with one of our testimonies of our Savior Jesus Christ written on the front page. It's a great Holiday tradition that we have grown to love.
3. Did you like or hate sitting on Santa's lap
. I think I hated it because I have a picture of myself when I was about 5 screaming my head off.
4. Was there a gift you really desperately wanted? Did you get it?
The Barbie Mansion, fully loaded. Yes I did.
5. What is your favorite Holiday Movie?
I have three: A White Christmas, The Holiday, and ELF. We recite lines from Elf all year long.
6. Favorite Holiday Song?
All of them, but I especially love Josh Groban, Harry Connick Jr, Michael Buble, Charlotte Church, Celtic Women, all the pretty stuff.
7. Do you make any Holiday Presents? What do you like to give?
Sometimes I do, if I have time. I usually make something for my girls, like doll clothes or sock animals.
8. Would you prefer a large decorated tree or one like the Charlie Brown Tree?
I like large, fully decorated, all blinged out trees with glitter galore.
9. If you could go back in time, when you you say was your most favorite Holiday Memory?
The Christmas just after I met my husband. I was only 18 and he was 24. I didn't know him that well, but I was completely smitten. We went to his Grandparents house in the Avenues in Salt Lake City that overlooked the whole valley and had dinner with all of his Aunts, Uncles, and Cousins. I think that was the first time I met Lila and Lucy too. It was so much fun! We played white elephant and I got a really nice smoothie making machine. I was totally sold and wanted to marry him and his family. I got my wish.
10. Do you like big family gatherings at the holidays or do you prefer a small dinner followed by hot chocolate by the fire?
Both. I love getting together and seeing my family, but I like to do that before Christmas. Nothing is better than staying home with my own sweet family on Christmas Day and just chilling out, watching movies, eating good food, and sleeping.
Did you enjoy that? I kind of did. I forgot about that Christmas memory :)
Now it's time for my little Give Away! I'm giving away a ROXY Rag doll and a purse from my Accessories pattern. Both are made from my Amelie Fabric line! They will be the perfect Christmas Gift for any little girl.
I don't have a picture right now because I am waiting for them to come home from Quilt Market, but I will post it the second I get it!
To enter leave a comment here on my blog. I don't care what you say, just say something nice.
For some extra brownie points you can also follow my blog and like me on facebook (my link is on the right side bar), but only if you want to.
I will be drawing the winner on December 1st!