We have this great thrift store in Utah that is owned by my church. It's called the D.I. and depending on where it is located it can be really awesome or just a lot of junk. The one here is St. George has a reputation for being pretty awesome, but I guess you have to go everyday in order to get the good stuff. I just went on a whim one day last week and found a bin full of old sterling silver knifes for 10 cents each!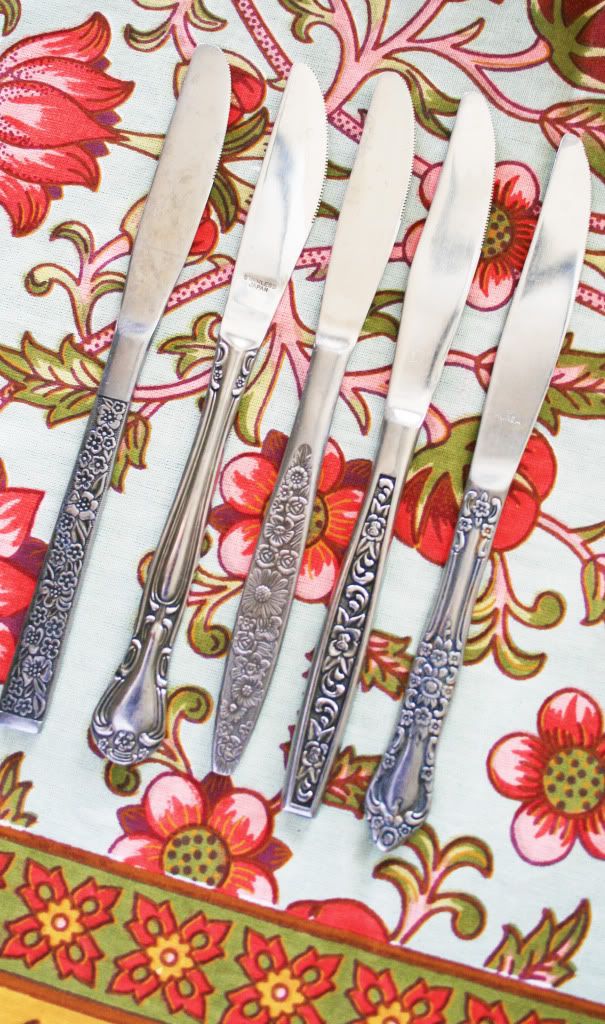 My husband has been complaining for years that we need nicer dinnerware, but we have never had money for nice stuff. Even though these are second hand they are nicer than anything we have ever had. They are all in pretty good condition and they're heavy and so ornate! I love how each one is different.
They were all out of forks and spoons that day, so I guess I'll have to check back a few more times and see if I get lucky, but I'm not waiting in the line that forms each morning to be the first one in. That's just too crazy for me...
I'm envisioning a really cute mismatched table setting for a neighborhood tea party I am planning on throwing when the kids go back to school. I recently found out I'm not the only new girl in my neighborhood and that we had 17 move in's on my street in the month of July! A tea party (with diet cokes) is definitely in order.
I hope they won't think I'm a nut.